The Shop
Apologies to anyone waiting for deliveries of orders including Great Western Journal 103. Unprecedented demand, possibly linked to non availability in branches of WH Smith, has led to the exhausting of my normal "first delivery". I received fresh stocks on Friday 17th and will be sending out delayed orders from Saturday.
Wild Swan books
A new Wild Swan booklist should be delivered next week, listing all available titles and containing details of some future and forthcoming books, I shall be dropping copies into all outgoing orders, butif you'd like a copy in the meantime then just send me an A5 SAE and I'll send you a copy by return.
The next Wild Swan book to be produced, which might just make it before Christmas, will be a stunning pictorial record of Aberllefenni Quarry and its railway in 1976 from Peter Barnfield, which also features poetry from Wes Magee(!). The next most recent production was Peter Barnfield's "Memories of West Country Railway Journeys" 120pp £14.95, see main site listing for more details.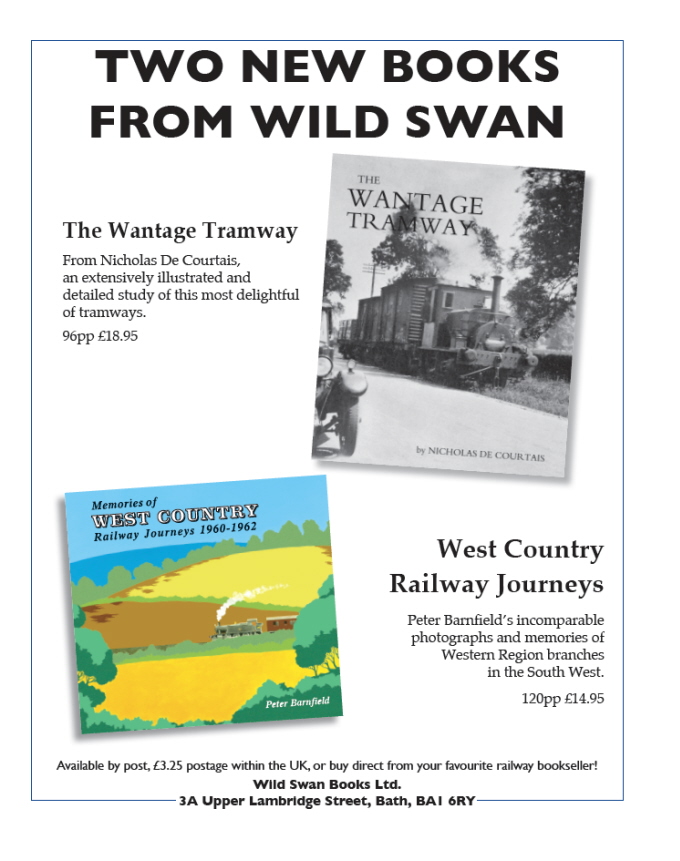 LNWR Wagons Volume Three will sadly not be available for Warley as preparing the comprehensive index is taking longer than first thought. It will be launched in the New Year sometime, date to be confirmed but it is defintely being produced.
I am otherwise adding additional Wild Swan information to www.wildswanbooks.co.uk the website for the publishing and promotional activities of Wild Swan Books Ltd. I have recently done some more work on this and hope to add more content soon, for example it now shows grouped images of the books that have been produced since I took over the business.
Shop
The shop is situated on the east side of Bath 1 mile from the Guildhall. Bus No. 7 from Bath Bus Station, also calling at the centre (Post Office) will bring you straight here. Free on street parking is also available around Larkhall. Or a pleasant walk along the Kennet and Avon Canal from Bath Spa Station. From the rear of the station cross over the Halfpenny Bridge and turn left, then walk along on to the canal towpath and head out to Grosvenor Bridge from where you cross the A4 to reach Larkhall.
Site last updated Friday 17th November latest additions to stock added, new reviews, new pictures, unavailable titles removed, search re-loaded.
Database generated pages on the site are now mobile phone friendly thanks to the efforts of techical whizz George Mumford.