Wantage Tramway book launch event
On Saturday 16th September we had an event to "officially" launch Nic de Courtais' new Wantage Tramway book at the very wonderful Vale and Downland Museum in Wantage. Thank you to everyone who came along, not least the Mayor of Wantage Mr Steve Trinder!
The Shop
I have re-arranged the shop for what is most likely to be the final time, trying to make the display more effective while giving myself more office space for Wild Swan activities. This means that the model railway stock is no longer on display, although I still have it and it remains accessible for those visitors who wish to see it.
Outside the fascia is following Sunshine Desserts into gentle decrepitude, I have engaged a man to quote for replacing this with nice new wood, let's hope it all happens before we slip into the season of mists, grey rain and winter....
Wild Swan books
The new edition of "The WantageTramway" is now in stock, 96pp £18.95, see main website listing for more details. The next Wild Swan book to be produced will be a stunning pictorial record of Aberllefenni Quarry and its railway in 1976 from Peter Barnfield, which also features poetry from Wes Magee(!). The next most recent production was Peter Barnfield's "Memories of West Country Railway Journeys" 120pp £14.95, see main site listing for more details.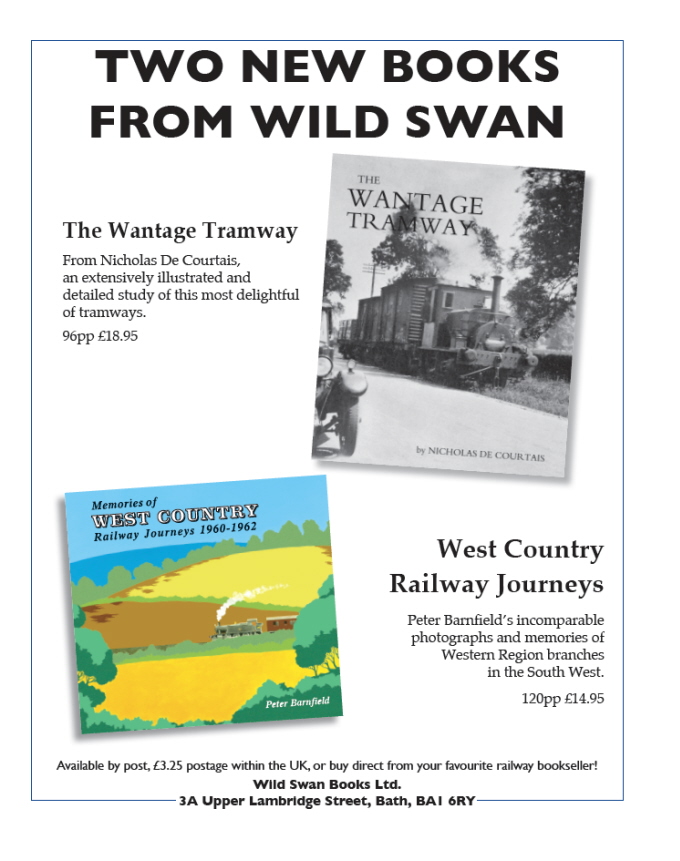 LNWR Wagons Volume Three will hopefully be available for Warley, the index is just being completed at the moment.
I am otherwise adding additional Wild Swan information to www.wildswanbooks.co.uk the website for the publishing and promotional activities of Wild Swan Books Ltd. I have recently done some more work on this and hope to add more content soon, for example it now shows grouped images of the books that have been produced since I took over the business.
Shop
The shop is situated on the east side of Bath 1 mile from the Guildhall. Bus No. 7 from Bath Bus Station, also calling at the centre (Post Office) will bring you straight here. Free on street parking is also available around Larkhall. Or a pleasant walk along the Kennet and Avon Canal from Bath Spa Station. From the rear of the station cross over the Halfpenny Bridge and turn left, then walk along on to the canal towpath and head out to Grosvenor Bridge from where you cross the A4 to reach Larkhall.
Site last updated Wednesday 20th September latest additions to stock added, new reviews, new pictures, unavailable titles removed, search re-loaded.
Database generated pages on the site are now mobile phone friendly thanks to the efforts of techical whizz George Mumford.