The Booklists
above link to summaries of each of the titles in print with an option to buy via The Titfield Thunderbolt shopping cart.
Items selected:
Total cost: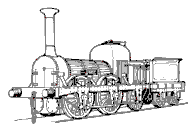 All Millstream's books are available exclusively from The Titfield Thunderbolt in Bath. Simon Castens, proprietor of that business, will fulfill all individual orders, whether received online or otherwise, and will also handle all orders from the trade. Simon and Tim's relationship goes back over 35 years, when Simon worked on Saturdays in Whiteman's. Despite that, we are still good friends.
Millstream Books
was started by Tim Graham and Alan Summers in 1986. We were then running Whiteman's Bookshop together in Bath, that wonderful mecca for transport fans as well as anybody interested in books about the local area; sadly Whiteman's is no more, but Millstream, as it is affectionately known, continues.
Strange as it may now seem, in 1986 there was no good book of walks in the Bath area, so we made the first of our long-term relationships with an author, in this case Tim Mowl. At about the same time we discovered that three bookshop customers had written books which had not been published so we decided to do so ourselves, and thus Millstream Books came into being. The name we chose was derived from Alan's then home, Millstream Cottages, and the logo, an outline of a wren, was chosen as the bird embodied our spirit - small, chirpy and full of confidence.
In those days, production involved layout sheets, strips of typesetter's galleys and cow gum or spraymount (oh, that smell!), so the refinement brought on by computers, especially Macs, was not yet available. Publishing a wide range of books on diverse subjects, Millstream quickly established high standards of production for its books, which featured the photographs and writing of several notable authors in their fields.
Three printers have stood out in our experience: the famous Amadeus Press in Cleckheaton, where Richard Cook and David Crossland acted as printing midwives for so many good transport publishers; the former Matthews Wright Press in Chard, where Terry Wright's brilliant visual eye improved so many layouts; and latterly the Short Run Press in Exeter.
In 1996, Whiteman's bookshop passed on to Steve Chislett and both Alan and Tim left the business. Alan returned to his first love, teaching & composing music, while Tim continued publishing from his front room in Widcombe, when not watching the world walk by.
In 2011, a quarter of a century after the first book was published, Millstream's 80th title was issued and the list had settled largely into two principal areas; books, on whatever subject, related to the Bath and Bristol region; and transport books. A third area is 'others', largely titles written by our friends that we just wanted to publish.
Over the years Millstream has established lasting friendships with many of its authors and three stand out: Tim Mowl has already been mentioned, master of leavening the highest scholarship with charming turns of phrase; Niall Allsop for his highly professional canal guides, when he wasn't engaging his native Irish wit; and, of course, the ever-persuasive Alan Hammond for his popular series of photographic records of the Somerset & Dorset Railway and the West Somerset Railway. If anybody wants a fast, fun read, then try Alan's two 'autobiographical' memoirs on The Sixties Boys and believe it all if you will. Working with over 50 different authors has been one of the joys of this publishing venture.
Books on Bath and the Surrounding Area include guide books of various sorts; books on aspects of Bath's commercial, transport, literary, artistic and architectural history; books on Bristol; and a range of books on Somerset and Wiltshire.
Transport Books include railway books, with a special concentration on the Somerset & Dorset Railway; books on buses; and books on canals, both the Kennet & Avon and the Somersetshire Coal Canal.
Other Subjects include a splendid range of four books on Doves and Dovecotes, and many aspects of pigeon lore and art; Alan Hammond's two memoirs on his youthful capers with a rock band; and a volume of essays in honour of L.T.C. Rolt.