---
Welcome to the first newsletter produced specially for all collectors of Whimshire images.
Lots of you have been collecting our greetings cards for some years now and when we announced our possible retirement at the end of 2007 there were so many cries of protest that plans were hastily amended to SEMI retirement, hence this newsletter and a new 2009 sales list. Whimshire continues to prove a rich source of inspiration and I've been busy at the drawing board even although we didn't produce a Christmas card for 2008. Having handmade over 40,000 cards during the past ten years or so, Ginny felt she was due just a little break!
The sort of things that get the steam pencil fairly fizzing with excitement are finds such as the old sepia photograph on the right. Now as you are probably aware, contemporary photos of the Portersfoote Bunting Light Railway are rare items because the old company actively discouraged people from pointing cameras at their trains or stations. Just why they were so paranoid about this we don't know, but the only person allowed to focus a lens anywhere near the railway was I Squint esq. the Whiminster Chemist. He made an official record of the line but as we know, this entire archive was destroyed in the 1930s blaze which also consumed virtually all the company records. This is not one of Squint's pictures, which were apparently all on 10x8 inch glass plates, but it shows a train on the main line climbing the last mile into Portersfoote Bunting with the unmistakable heights of Blackthorn Edge, which tower above the village, as a backdrop.
PBLR TICKETS DISCOVERED IN BACK OF DRAWER
Further finds enable us to shed a little more light on the PBLR ticket system. I say system but should point out that, so far as is known, nobody has yet been able to fathom out its colour coding, which was apparently somewhat random.
The Livestock ticket (top) was, it seems, only available on Thursdays and Fridays and probably mostly used by dog owners, as no specific dog tickets have ever been found. If this is so then how did dogs over 15 inches in height travel and what did passengers with dogs do on other days of the week? Were cats really carried on engines? We can only assume this was to avoid any travelling dogs, although perhaps the many station cats employed by the company did ride on the engines.
The Period Return to Arcadia Gate (centre) has the usual route "via Myrtle Junction", but I am quite mystified as to how else one could have travelled between Portersfoote Bunting and Arcadia Gate, unless it was by the road! (Readers in doubt should consult their PBLR map).
A platform ticket (bottom) for Portersfoote Bunting, of all places, seems something of a joke. It would appear that part of the normal operating procedure here was to use sidings, and the public roadway as "platforms" during busy times. Since four passenger trains were scheduled to meet here at least once on most days and there was but one actual passenger platform, I wonder when these were issued. It is quite likely that they were printed but in fact never found their way out of the ticket rack. This example is undated and thus unissued.
The Wellington Boot Tread Cutting Company Revisited
A visitor to Whiminster, who was recently searching for remains of the old light railway, sent us this photograph of what now remains of the premises of this well known firm. The building as it was when in use by the company, featured in Steam Pencil greetings card W64 and many readers will possibly have a copy of this in their collection.
Although we are not sure of just when this firm ceased trading, little seems to have changed over the years since the demise of the railway, whose main line snaked through the narrow archway beside it. The undergrowth has been cut back, the front of the building demolished and an old motor car stored there beneath a blanket. The rusty tin roof remains and one can almost imagine narrow gauge tracks still in situ, awaiting the passage of the next train steaming around the curve from Cloisters station and making its way through various ancient back alleys of the town on its way to the Buntings.
Below: STEAM PENCIL greetings card W64
THE WEST WHIMSHIRE LIGHT RAILWAY
The WWLR was a little known standard gauge railway that joined the LSWR Witter Valley line at Wittersby Alder, just north west of Whiminster. It managed to avoid being swallowed up by any other company, remaining independent, pottering along in its own peculiar way until closure sometime in 1951. Originally projected as a main line, it started life as the Whiminster & Whimchester Direct Rly. but ran short of capital and was superseded by the LSWR scheme. Re-emerging as the Plumbury Bagotte & Vobley Mere Rly., neither of which
places it reached until many years later, it finally settled down as the West Whimshire Light Rly. The monogram (left) is a relic of the railway's intermediate period and, incredibly, continued to be used in some cases up until 1951. We intend researching the history and route of the WWLR and may report back at some future date. It may even be possible to produce some pictures if sufficient source material can be found.
TIMETABLE & MAP
If you are sending for any of our new 2009 greetings cards and don't already have the official PBLR timetable / map and would like a copy, please let us know and we'll send this to you FOC when we post your order. These also featured in the now out of print PBLR book, which is no longer available.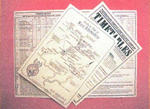 ANOTHER ARCHIVE PHOTOGRAPH
This nicely detailed photograph has been identified as none other than Portersfoote Bunting itself and shows the station booking office as it was latterly. The position of the tiny ticket window, with the brass faced dating press to its left and the small ticket rack are all PBLR features (there were always far more tickets than would fit in these racks and apparently others were stored in the long, narrow box to the right of the window). Knowing the official antipathy towards photos we wonder who dared take this one, but since it is obviously more than just a box camera snap, maybe it was semi-official and taken by one of the directors themselves.

We hope you have found this newsletter of interest and welcome comments, criticisms or material for possible use in any future editions. Peter & Ginny Barnfield
Produced by PB Graphics
Printed by Whimshire Steam Printing Co. Snuff Alley, Whiminster